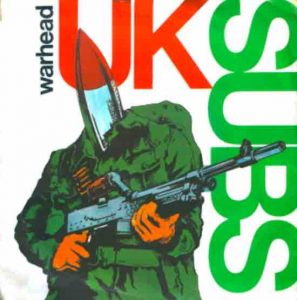 1980 Top 75 UK chart singles about peace / anti-war / anti-nuclear issues, in approx. chronological order (source of original data: officialcharts.com; source of research data: McKay, 'Rethinking the cultural politics of punk' chapter).
[During this extraordinary year] there were 22 such Top 75 hits, by 18 different artists (see below). For almost the entire year of 1980 (47 weeks), the UK singles charts contained at least one hit song that spoke of anti-war or anti-nuclear concerns, and usually more than one.

From the new chart on November 30 until the end of the year, for instance, each week there were between five and seven antiwar or antinuclear singles in the charts (by Boomtown Rats, UB40, OMD, Clash, Jona Lewie, or John Lennon). Most of these were punk-related.

For the youth that constituted a large part of the single-buying public, this was an unavoidable sociocultural discourse, an insistent nudging in the direction of a current social movement, and an articulation of a political positionality via cultural consumption. For everyone else it was impossible not to hear some pop message of peace via the everyday music of Britain at this time.
Below is a Spotify playlist. Further down, are all the songs, including some information about each single's chart performance, and its relation to punk. (The question of pop punk politics was the starting point for the research.)
| | | | | |
| --- | --- | --- | --- | --- |
| artist / band | song title | highest position (weeks at no.1) | weeks in charts | how punk-related? |
| The Skids | 'Working for the Yankee dollar' | 20 | 11 | punk band |
| The Clash | 'London calling' | 11 | 10 | punk band |
| The Jam | 'Eton rifles' | 3 | 12 | punk/new wave band |
| Peter Gabriel | 'Games without frontiers' | 4 | 11 | – |
| UK Subs | 'Warhead' | 30 | 4 | punk band |
| The Jam | 'Going underground' | 1 (3) | 9 | punk/new wave band |
| Kate Bush | 'Breathing' | 16 | 7 | – |
| Stiff Little Fingers | 'Nobody's hero' / 'Tin soldiers' | 36 | 5 | punk band |
| Angelic Upstarts | 'Last night another soldier' | 51 | 4 | punk band |
| The Piranhas | 'Tom Hark' | 6 | 12 | punk/ska band |
| Hazel O'Connor | 'Eighth day' | 5 | 11 | new wave, song from punk film |
| The Beat | 'Best friend' / 'Stand down Margaret dub' | 22 | 9 | ska/new wave, independent label (Go Feet) |
| XTC | 'Generals and majors' | 32 | 8 | new wave |
| Orchestral Manouevres in the Dark | 'Enola Gay' | 8 | 15 | electronic post-punk, (semi-) independent label (Dindisc) |
| Kate Bush | 'Army dreamers' | 16 | 9 | – |
| UB40 | 'The earth dies screaming' | 10 | 12 | reggae, formed in punk scene, independent label (Graduate) |
| Dead Kennedys | 'Kill the poor' | 49 | 3 | punk band |
| Jona Lewie | 'Stop the cavalry' | 3 | 23 | independent label (Stiff) |
| The Clash | 'The call-up' | 40 | 6 | punk band |
| Boomtown Rats | 'Banana republic' | 3 | 11 | new wave band |
| John Lennon | 'Happy Xmas (war is over)' | 2 | 9 | – |
| John Lennon | 'Imagine' | 1 (4) | 13 | – |