To mark the publication of Shakin' All Over: Popular Music & Disability, I present in countdown form my (current) Top Ten songs of disability. I'll post a short piece of writing about each one, drawing from or developing what I've written about it in the book, and illustrate with a link to a video or image of the artist(s) performing. From 10 to no. 1, top of the charts, that's the business after all. I've already worked out what they are, and frankly there are about 30 or more of them, so I have some work to do to get it down to ten. And no, they are not all positive, or overcoming, or unproblematic, though some may be. I really look forward to your comments and nominations too.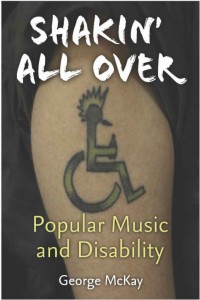 10. The Who, Tommy (fim, 1975)
9. Israel Vibration, 'Rude by shufflin" (video and song, 1995)
8. Hank Williams, 'Howlin' at the moon' (1951)
7. Kenny Rogers and First Edition, 'Ruby, don't take your love to town' (1969)
6. Teddy Pendergrass, 'Reach out and touch (somebody's hand)' (1985)
5. Kata Kolbert, 'Live your life' (1987)
4. Ian Dury, 'Spasticus Autisticus' (1981)
3. Joy Division, 'She's lost control' (1979)
2. Curtis Mayfield, 'Here but I'm gone' (1996)
1.= Neil Young, 'Helpless' (1970)
1.= Ian Dury & the Blockheads, 'Hey, hey, take me away' (1980)
_______________
BTW here is a terrific blog with two sets of disability songs, lists made by Anthony Tusler for the Society of Disability Studies annual dance: 'Don't forget who's taking you home'.
And here is a regularly updated database entitled Musical Representations of Disability (currently it has around 250 entries, including some from popular music). It's maintained by the Music and Disability at the AMS and SMT blog, and relies on us to add entries.
_______________
And below are some of your other suggestions and comments, that have come in from other routes (via email, facebook).
_______________
Vic Chesnutt's 'Debriefing' from his brilliant album North Star Deserter deserves a place on any list of songs by disabled musicians.
when i stop breathing / and my poor old heart finally gives out / i will spend eternity / debriefing, debriefing, debriefing, debriefing

when i deplete the funds / and they're forced to pull the plug / chisel on my tombstone / debriefing, debriefing, debriefing, debriefing.
When the funds were depleted and he was no longer able to afford the hospital bills, he was forced to pull his own plug. RIP Vic Chesnutt. http://en.wikipedia.org/wiki/Vic_Chesnutt
_______________
You may be interested in this excellent thesis written by a former student of mine on representations of disability in the music of the Smiths and Morrissey:
https://etd.ohiolink.edu/ap:10:0::NO:10:P10_ACCESSION_NUM:bgsu1245685405
is 'Epilepsy is dancing' by Antony and the Johnsons on your list yet?
I also wanted to make a case for 'I Can't Write Left-Handed' if you haven't considered that already… http://www.youtube.com/watch?v=O4RyYtkifTM
_______________
I'm sure most people on the list are familiar with this already, but just in case you're not … anyone looking for lists of themed songs about pretty much anything could do a lot worse than consult The Guardian's 'Readers Recommend' column.
http://www.theguardian.com/music/series/readersrecommend
This has quietly turned into a genuinely impressive resource over the years and now boasts around 360 themed entries, from the obvious (colour, food, countries) to the unexpected (songs without a chorus, songs with less than ten words, B-sides).
It offers an excellent "instant lesson plan" formula for undergraduate level teaching (particularly on songwriting modules) or quizzes, and might also be described as a good way to while away a rainy afternoon.
_______________
I love 'Kentucky Avenue' by Tom Waits:
Take the spokes from your wheelchair / And a magpie's wings / And tie 'em to your shoulders and your feet! / I'll steal a hacksaw from my dad / And cut the braces off your legs / And we'll bury them tonight in the cornfield.
_______________
let me just check if this listing, or the call in the first place, has been delivered for consultation of the people it might refer to. as a father of a disabled person i'm a bit concerned of the light-heartedness of this discussion. one of the most renown punk bands in Finland at the moment (or at least a year ago) was a group "Pentti Kurikan nimipäivät" (PK's name day), comprised of four men with various diagnoses, ranging from autism to down syndrome. there's actually a feature documentary film of them, you might find it on U-tube.
Tommy is a joke.
i do think the topic is more important than we care to admit, for a reason or another. apologies for the bluntness.
_______________
The documentary *** mentioned [above] is called The Punk Syndrome in English, highly recommended!