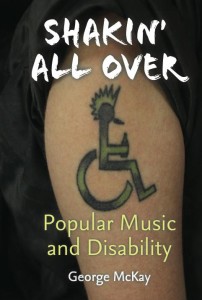 … In the book we will see that some musical acts explore and return to tropes of disability over lengthy pop careers. So, rather than disability being a distasteful or unuttered subject, it is, maybe surprisingly, centre stage in some of rock's pleasure dome. To offer one illustrative example,
English rock group the Who stuttered the attitudinal voice of English youth in 1964's 'My generation' ('People try to put us d-d-down'). The stutter forms part of the argument around my notion of mal canto, speech disfluency and how, if at all, one might sing or voice a disabled body.
The Who sang and acted 'That deaf dumb and blind kid [who] sure plays a mean pinball' in 1969, and then the film Tommy in 1975, which includes that extraordinary, disquieting scene featuring Eric Clapton singing and playing 'Eyesight to the blind' in the church. The congregation consists of the institutionalised blind and people in wheelchairs; they must touch the icon–a statue of Marilyn Monroe–in the hope of a cure…. Confused satire? Ideology of ability?
Guitarist Pete Townsend was widely reported when he spoke out in 2006 about the experience and the dangers of rock music-induced hearing loss: 'I have unwittingly helped to invent and refine a type of music that makes its principal proponents deaf'. ('One word from [Marilyn's] lips and the deaf can hear'? Hmm)
From youthful stutter to a hearing impairment more readily associated with older people, from the band that first sang, when they were young, 'I hope I die before I grow old' (it didn't happen, not to the songwriter or the singer, anyway): cripping the Who offers us a different set of insights into the band's body of work across the decades, which is also to do with refiguring the generational pull of youthful pop and rock. As singer Roger Daltrey said in 2006: 'Can you see us onstage in wheelchairs?… It will still be us, still be the same music…. Pete may have trouble with the guitars, I suppose. He does like to jump around'.