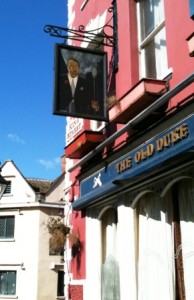 [Post written originally for Rhythm Changes research project, and copied from its website]
Bristol in  the West Country is a noted stronghold of jazz practice in Britain–from, for instance, Acker Bilk (cl, trad) to Keith Tippett (p, free) and Andy Sheppard (ts, ss, contemporary). This famous local pub has struck me as an interesting spatial example of the way jazz is indigenised, if you like (not sure I do entirely),  has been adopted and adapted to the national cultural  practice. The dominant masculine space of the English pub has been one of those where jazz has happened (in Circular Breathing I suggested that the pub as jazz venue was one reason for jazz's predominant masculinity in Britain)–so the very space of the traditional British pub was re-sounded by jazz in the 20th century. It's worth remembering that a key space often referenced in British jazz histories for the development of the music was the Red Barn, Chislehurst, Kent, birthplace of George Webb's Dixielanders.
But The Old Duke in a historic quarter of Bristol is more than that. Most pubs in Britain that are The Old Duke, or the Duke, are I think because historically they commemorate the military achievements of the Duke of Wellington (1769-1852), who defeated Napoleon at the Battle of Waterloo. The Old Duke has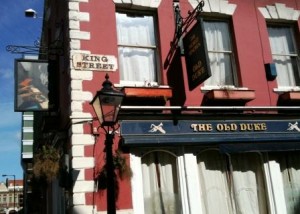 taken that English tradition of pub-naming–and of imperial history–and recontextualised it, subverted it, even signified it maybe.  (How signifyingly clever that the Dukes' names are so very similar: W/Ellington!) After all, Bristol was a port the wealth of which was predicated in the 18th century on the triangulation trade, including the slave trade, and The Old Duke is by the Docks. So here at The Old Duke, as befits a jazz space,  a portrait of a white imperial old world hero (the Duke of Wellington) is replaced by one of a black transnational new world hero (Duke Ellington). In terms of cultural identity, Europe and America, history and modernity, jazz and public pleasure, The Old Duke fascinates.