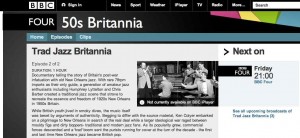 As one of the television channel's popular Britannia series around popular music and style, there's a documentary on BBC Four this Friday, the second of its two in its 1950s series. (The first was Rock & Roll Britannia, shown last week.) It's called Trad Jazz Britannia.  I feature on it, possibly talking about New Orleans-style marching bands in Britain, particularly on political demonstrations. From the programme's page on the BBC website:
One hour documentary telling the story of Britain's post-war infatuation with old New Orleans jazz. With rare 78rpm imports as their only guide, a generation of amateur jazz enthusiasts including Humphrey Lyttelton and Chris Barber created a traditional jazz scene that strove to recreate the essence and freedom of 1920s New Orleans in 1950s Britain. While British youth jived in smoky dives, the music itself was beset by arguments of authenticity. Begging to differ with the source material, Ken Colyer embarked on a pilgrimage to New Orleans in search of the real deal while a larger ideological war raged between mouldy figs and dirty boppers- traditional and modern jazz fans. As its popularity grew, commercial forces descended and a 'trad' boom sent the purists running for cover at the turn of the decade – the first and last time New Orleans jazz became British pop.
The programme is broadcast on Friday 24 May, 9 pm, with repeats on Saturday 25 and Monday 27 May.